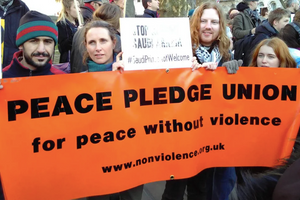 Membership - standard (£24)
War will end when people refuse to go along with it.
At the Peace Pledge Union we don't believe in waiting for politicians and generals to take the lead.  We believe that change comes from below.  We can all take part in resisting war and militarism, practising nonviolence and building peace.
Since the PPU was launched in 1934, thousands of people have taken the peace pledge, committing themselves not only to rejecting war but to working for peace and tackling the causes of war.
By signing this pledge and paying a small annual membership fee, you become a member of the Peace Pledge Union.
'War is a crime against humanity.  I renounce war, and am therefore determined not to support any kind of war.  I am also determined to work for the removal of all causes of war.'
By joining the PPU online, you take the peace pledge.
Members receive:
A welcome pack with resources and briefings on issues of war and peace
The PPU magazine 'Peace Matters' three times per year
The chance to participate in the PPU's decision-making through our annual general meeting
Discounts on certain PPU publications and events
But the most important thing about being a PPU member is that you will belong to an active pacifist movement.
The PPU is the British section of of War Resisters' International, uniting pacifists and other anti-militarists in over forty countries across six continents.  Through joining the PPU, you thus become part of a worldwide movement.
---
Share this Product
---
More from this collection